SURFACE Oven dish L cast iron - Camogreen - 32 x 20 cm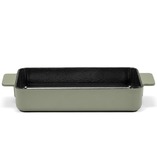 € 155,00
(VAT incl (excluded shipping))
Product description
Durable, timeless and sturdy - cast iron pots and pans to have fun in the kitchen and steal the show at the table.
The 'Surface' collection by Sergio Herman has been extended to a full range of pots and pans in various sizes - handy and compact when cooking for only yourself or 2, or large pots when guests are joining at the dining table.
The choice to let the material be 'itself' on the outside - rough and unpolished – creates a powerful contrast with the smoothly polished interior. The unyielding glazing can withstand the highest temperatures and retains the heat for a longer time so that the flavors can be fully absorbed.
Available in 2 colours – the 'Camogreen' version very closely matches the plates from the tableware collection, while the black version looks powerfully tough. Suitable for all heat sources.
| | |
| --- | --- |
| Country | Belgium |
| Shipping costs | € 5,95 |
| Free shipping from | € 100,00 |
| Estimated delivery time | 2 to 5 days |
| | |
| --- | --- |
| Product code | B8718111G |
| Designer | Sergio Herman |
| Materials | Cast-iron |
| Type | Oven dishes |
Height
6 cm
Length
38 cm
Width
20 cm
Gift packaging
Nice gift box
Weight
4.7 kg
Designed in

Belgium

Safety instructions

Gas hob

Cast iron hob

Ceramic hob

Induction hob

Oven safe

Foodstuff products

Easy to clean
Contact our 'design' lovers